Choirs at Gustavus Adolphus Church

If you're interested in participating in one of our groups, contact philh@gachurchmpls.org
Contemporary Group – For high school through adults
Rehearsals are held each Wednesday from 6:00-6:45 p.m. This group leads worship monthly, usually on the 3rd Sunday of the month.
Director: Joel Lurvey
GA Choristers – For Elementary and Middle School young people – Currently on hiatus
Deacon Phil Holzman will work with Sunday School children who will sing in worship on occasion. If there is in re-starting a children's choir later in the year, we will look into that.

Senior Choir (NOW GA CHOIR!) – For middle school through adults of all ages
Our choir is going through a bit of a change as we look to re-organize and become more attractive to new members. We are now known as the GA Choir, and more importantly, we have switched our rehearsal times to Sunday mornings at 8:30 a.m. three Sundays a month (taking off the 3rd Sunday). We sing in worship usually two Sundays per month plus on church holidays. We are really looking for new singers this fall as we re-organize the choir. Please think about joining us! We're a fun group and we enjoy singing a variety of styles of music.
Director: Phil Holzman
Gustavus Bells – For music readers in middle school through adults of all ages
The Gustavus Bells have resumed weekly rehearsals on Wednesdays at 6:30 p.m. We are currently in need of some substitute ringers. If you read music and are interested in ringing bells, contact Phil Holzman!
Director: Phil Holzman
Christmas Musical Event Coming Up – "A Festival of Nine Lessons & Carols" – December 18, 4:00 p.m.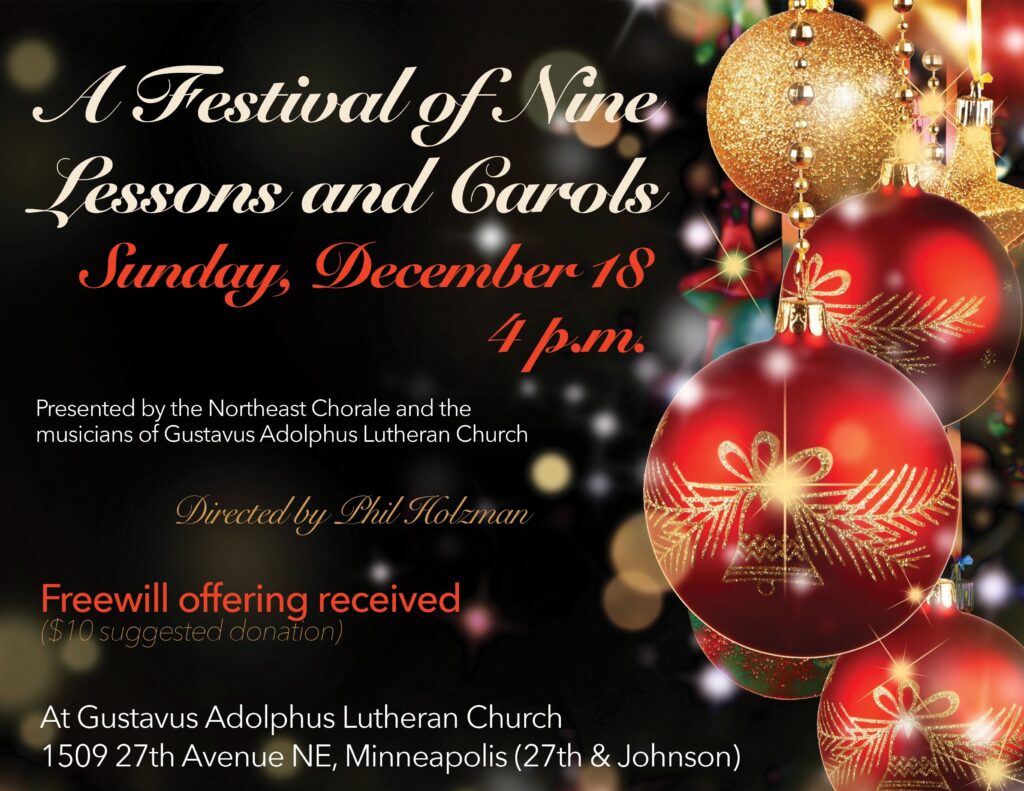 Additional Ways to Share Your Talents
We're always looking for instrumentalists and vocalists to offer music for our worship services. If you're interested in sharing your talents in worship, contact Phil Holzman at philh@gachurchmpls.org
Northeast Chorale
The Chorale is a community choir that formed in 2015 and provides concerts in the spring and fall each year. In addition, they join with the Gustavus Adolphus Choir at Christmas for A Festival of Nine Lessons and Carols. You can learn more about the Northeast Chorale by going to their website at https://www.northeastchorale.org/
For more information about our church's music ministries, contact Phil Holzman at philh@gachurchmpls.org